Promotional items are a significant marketing tool used by most corporations. In fact, the PPAI (Promotional Products Association International) reports that nearly $21 billion was invested in these items in 2015, an increase of 3.82 percent over 2014. This increasing use has been consistent since the early 70s, an indication that promotional items do, indeed, work effectively as part of an overall marketing strategy.
To help provide insights into today's most popular promotional items, Promo Gallery recently conducted a study (within Australia) that asked 1500 respondents this question:
Which promotional products do you find most useful?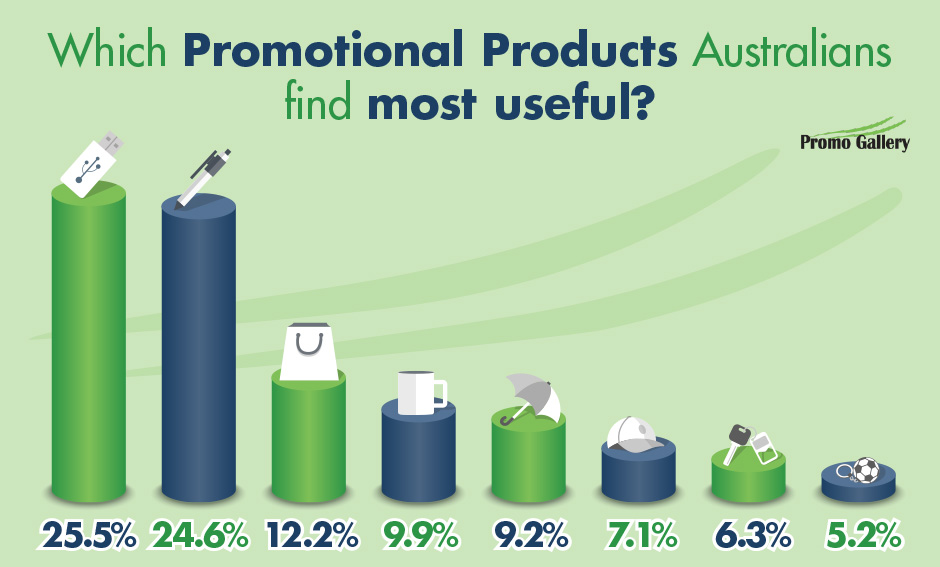 Interestingly, the results included a newer item (the USB) virtually matched with a traditional mainstay (pens) as the most popular items, together receiving more than half of the votes. These two items share a basic characteristic valued by the recipient: lasting and functional utility. The overall results from the study are as follows:
Promotional USB – 25.5%

Promotional pens – 24.6%

Promotional bags – 12.2%

Promotional stubby holders, mugs, bottles – 9.9%

Promotional umbrellas – 9.2%

Promotional caps and balls – 7.1%

Promotional key rings – 6.3%

Promotional stress shapes products – 5.2%
It is worth noting also that this longer-term usability also correlates with the marketer's desire for long-term and persistent branding with the product.
Methodology of Survey
The seven items were shown to each respondent for the survey, and the participants spent a median of 12.7 seconds providing their input to the survey question. The survey was conducted online (Google) and achieved 14,161 views.The mix between male (53.2%) and female (46.6%) respondents was biased against general AU internet population data by 2.2% and -2.2% respectively.
Survey results data worth mentioning
The analysis shown that women have chosen the promotional bags item two times more comparing to men (which could have been expected).

Also we can see that the younger generation mostly picked items related to promotional stubby holders, mugs, bottles: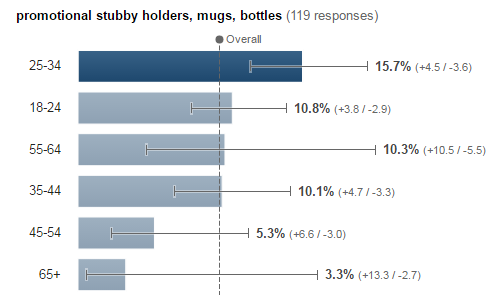 At the end when we look at the data from the AU region perspective it is clear that promotional usb is the favourite promotional item in Tasmania: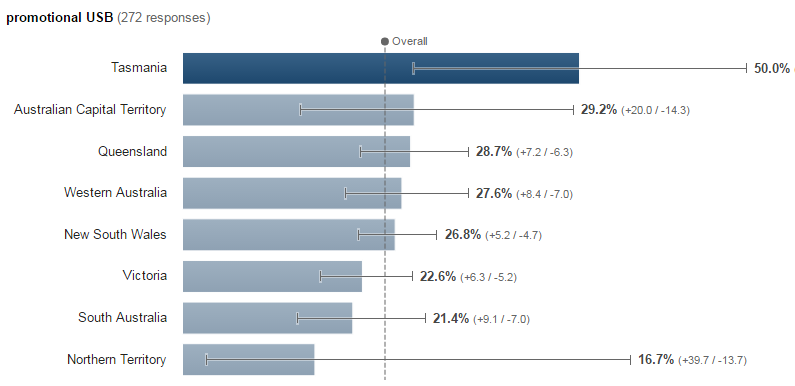 What we learned from all this related to selecting the Ideal Promotional Item
If one assumes that promotional items are important to overall branding, that addresses only a portion of the issue related to properly integrating them into a company's overall marketing tool kit. Other elements include:
Where and when to utilize promotional items, such as trade shows and other situations

What message is conveyed and how it reinforces the brand

How much of the overall marketing spend should be allocated to such items
Of course, an integral part of the decision process for promotional items is the choice of the product. Once a purpose and budget have been established, there are literally hundreds of thousands of types and categories of promotional items from which to choose. The right item is ultimately determined by the company's marketing strategy, clientele, and related factors.
Additionally, the industry is somewhat trendy in the products that are offered. While there are year-after-year favorites, such as key chains and pens, even these staid categories constantly introduce new innovations and variations from which to choose.
In deciding which promotional items to select, it is important to revisit the purpose and objective of such marketing materials. The basic idea behind using a physical product such as a giveaway is to create brand awareness by providing consistency and persistency. In other words, the goal is choosing and providing an item that bears a company's brand that will be used and viewed repeatedly over a number of months.
If the overall objective is to achieve an ongoing branding effect from promotional items, it is important to focus on those promotional items the customer values and will use. That makes it useful to understand what items the consumer views as most desirable to receive as part of a marketing effort.
Conclusions
The survey provides clear insight into the preferences of the online sample tapped. Utility and usability is a common characteristic of the more preferred items. While these conclusions indicate clear winners for the most popular promotional items from the consumer's perspective, they do not indicate the appropriateness for specific industries and applications. For example, though USB drives were chosen more than three times as ball caps, they might be inappropriate for target prospects and customers who are not heavy users of computers and data drives.